DIRECTOR'S MESSAGE
Dear Friends,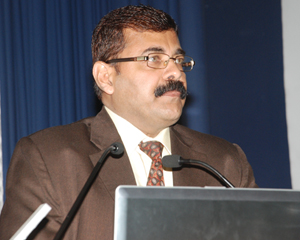 Balaji Institute of International Business (BIIB), Pune is a young business school that has made positive impact on all the stakeholders and aspires to spread the human values through creation and dissemination of knowledge in the field of management education.We offer Two Year Job-oriented Full time Management Programme that has a legacy of professional excellence in Corporate World and we are proud of our tradition of excellence in business education.  The programme lays the foundation for conceptual and analytical reasoning, provides the students an insight into the dynamics of the corporate world and is designed with a philosophy of management practices which revised every year to stay abreast with the current business scenario.
The Institute was established in 2003 with a principle that each student should be treated as the consumer and are nurtured and developed with proper care to make sure that their return on investment should be measurable and high.  We do not just provide a Degree or Diploma.  We behave and act as a training centre with military discipline and managerial Fervour with an aim that each and every student should get a lucrative corporate career on completion of the course or should be capable of becoming successful entrepreneur.  We enjoy the privilege of selecting the good students of the country with diverse background and determined to give a holistic view of problems through a participative learning process.
There is a strong emphasis on project work as a part of the regular courses at the Institute.  While working on projects, students are required to interact with managers from the Industry.  Besides this, our students are involved into multifaceted activities.  We encourage all students to participate in all the co-curricular activities which helps them to build their confidence, improve their leadership qualities, communications skills and improve their ability to work in team constructively thereby improves the overall personality.  Our pedagogy encourages practical workshops and real life data analysis as a part of course assignments.  The intensive Information Technology (IT) offered as integral part of the course to enhance their employability in the industry.
Balaji Institute of International Business (BIIB), Pune augments its faculty strength by inviting senior faculties from elite educational institutes and universities.  We provide excellent infrastructure with unmatched industry experienced faculties. We have constant interactions with various business leaders and global managers from the corporate world as also the academic gurus who visit us as guest faculty.
I would like to take this opportunity to thank the industry for their unflinching support.  It gives me great pleasure to welcome you to our Campus and I look forward to your company as our partner in progress.  We strongly value our partnership with business, employers as we work together to enhance the country's social and economic health.  We look forward to build long lasting and mutually beneficial relationship with you.  You will find hiring the students of our Institutes rewarding.  I wish a very flourishing career ahead to all the students and feel confident that they will be well acknowledged by the industry.
Welcome… Welcome to BIIB
Dr. Suresh Chandra Padhy
Director, BIIB
director@biibpune.com