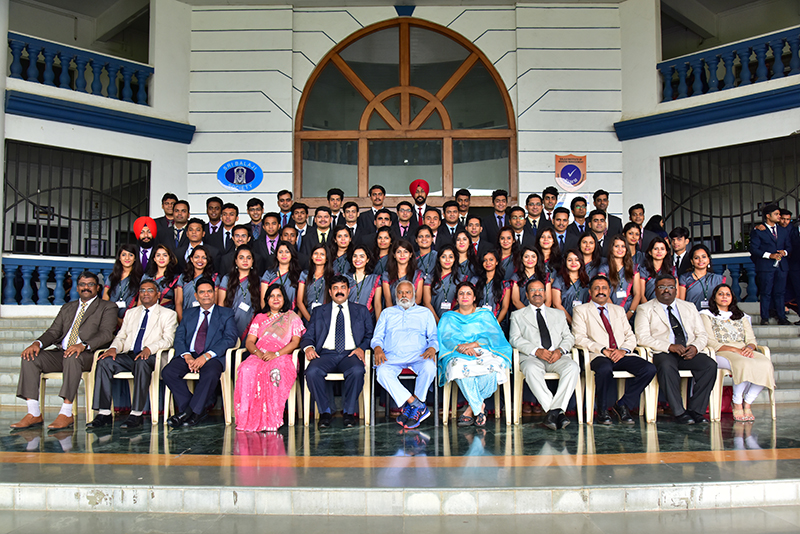 OUR INSTITUTE
BIIB – in midst of a diamond mine!
BIIB, an 'A++' Grade' AICTE accredited Business School is located in Pune. Established in 2003, under the aegis of Sri Balaji Society, Pune we are one of the fastest growing International Business Schools in India. We have an excellent track record of campus placement where everyone is almost placed. At the same time we never claim to be a placement agency. Yet our training and scientific grooming have resulted in rich corporate career to thousands of students who are pursuing successful corporate careers globally.
we are known for one of the most updated curriculums, consistently re-worked to suit the dynamic needs of the industry.
Our curriculum is worked to suit not just the domestic market, but the time frame, where competition is lateral and winning is no longer within bounds and challenges are moving towards infinity.
Along with the academics and a healthy set of cultural and co-curricular activities, our consistent interaction with industry Expertise viz. workshops, guest lectures, seminars, mentorship, informal interactions and so on; help us to serve not just a management course, but a wholesome meal to satiate the hunger of aspiring socially responsible leaders of tomorrow.
Uniqueness lies not only with our curriculum but also the infrastructure set up to boost a healthy growth of individuals in challenging times. With facilities and amenities second to none, being a part of BIIB is an experience in itself.
Not only our set of humble credentials but also our excellent placement records testify our endeavours.
Our Vision & Mission
VISION
To contribute to the development and wealth of the country by converting young generation graduates into value based, socially conscious, trustworthy and proactive student managers.
MISSION
To provide the environment of international stature to enable the student managers develop their capabilities to face challenges in the emerging global scenario.
Awards, Ranking & Recognition
Latest "Times Of India" B-School Survey (dated 23th February 2018).
The Times of India has Ranked Sri Balaji Society Institutes (BIIB, BIMM,      BITM, BIMHRD), Pune as one amongst Top 12 B – Schools in the country. The list comprises of all leading Business Schools of the country including the     IIMs. The same survey has Ranked Sri Balaji Society Institutes (BIIB, BIMM, BITM, BIMHRD) Pune as one amongst the Top 7 Private B-Schools in the country, one amongst Top 3 B-Schools in Pune and one amongst Top 4 B-Schools in Maharashtra. Apparent to note is the fact that all the four B-Schools have been ranked as one group: Sri Balaji Society. You can visit www.timesbschoolsurvey.org to see the ranking of India's B Schools.
Ranked 65th in Top 100: Selection Process, Governance & Establishment in India's Best B-Schools Survey (Source: Business Today December 2, 2018)
Ranked 69th in Top Private B-Schools All India (Source – THE WEEK, November 4, 2018)
Ranked 10th in Pune in India's Private Best B-Schools Survey (Source- Career360 November 2018)
Ranked 19th of Top B-School in Eminence in B-School Survey (Source- Competition Success Review B school survey 2018)
Ranked in Top 100 Private B-Schools in India (Education World May 2018 Survey)
Other credentials of BIIB: According to 'Business India' ranking for best Visiting faculties, Sri Balaji Society is ranked as one amongst Top-3 B- Schools in    India. According to 'Mint' – an economic daily from the Hindustan Times group, Sri Balaji Society is ranked as one amongst Top-5 for the Best Infrastructure. Other significant rankings of BIIB are given below:-

Ranked A++ B-School in Business India Magazine (Source: Business India. The Magazine of corporate world (December 18-31, 2017).
Ranked as A category in All India B-School Survey 2017 & received Certificate of Excellence (Source: Chronicle B School Survey February, 2017).
Ranked 18 of Top B Schools of Eminence in B School Survey (Source-CSR-GHRDC B school survey No. 2016).
Ranked in Top 50 private B-Schools in India (South & West) & received AAA+ rating in Maharashtra (Source –Career360 Survey November 2016).
Ranked A7 in Super League Group in Business School Special Edition of Business Standard Newspaper dated 17 June 2016.